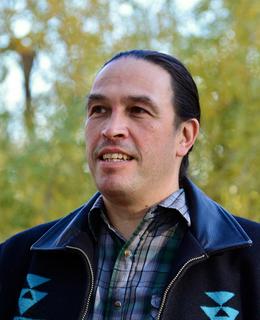 Dr. Adam Murry, PhD
I'm looking for...
Research partners
Indigenous owned and operated organizations, especially working on employment. 
Research partners
Non-Indigenous agencies, programs, centres, and institutions that are committed to decolonization and Indigenization efforts.
Research partners
Indigenous and non-Indigenous practitioners and students interested in Indigenous employment.
Background
Educational Background
Bachelor's of Arts Psychology, California State University, Northridge, 2006
Doctor of Philosophy Applied Psychology, Portland State University, 2015
Masters in Science Applied Psychology, Portland State University, 2013
Research
Areas of Research
Mixed-methods research
I like to use research to produce information for things we need in a practical sense. My research is almost always in partnership with stakeholders who have an immediate use for the information, but that also informs decision-making on a larger scene. I do my best to use whichever method fits, whether that be quantitative, qualitative, or both.
Indigenous self-determination and Indigenization
I have a lot of projects going on, but they all attempt to do something useful. My commitment is use research to answer questions and produce information that support Indigenous agendas in and out of Western spaces. The opportunities that have presented themselves to me in the past few years have been primary within Western institutions, e.g., hospitals, schools, but my vision is not limited to that. It just happens to be that the type of research I do meshes best with organizations as industrial-organizational psych guy. Before moving to Mohkinstsis, I worked primarily with Indigenous owned and operated non-profits and tribal agencies, and less with programs within Western institutions, but I'm cool with whatever as long as it aligns with my commitment.
Participation in university strategic initiatives
Courses
| Course number | Course title | Semester |
| --- | --- | --- |
| INDG 39713 LEC 01 01 | Indigenous research ethics and practice: Indigenous methodologies | 2021 |
| INDG 492 LEC 01 01 | (PSYC 492) Indigenous PSYC | 2020 |
Projects
Indigenous employment experiences
In the currently funded project we're trying to provide recommendations about how employers can support Indigenous faculty and staff. Results to serve the Office of Indigenous Engagement here at the UofC as well as Indigenous-related HR at other universities. However, Indigenous employment is a focus of our lab and future projects will move in different directions.
---
Indigenous mentorship in the health sciences
This project is in service to the Indigenous Primary Health Care and Policy Research (IPHCPR) network led by Dr. Lindsay Crowshoe. On-going research involves the development of a survey for quantitative validation of an Indigenous mentorship model we put forth under the Alberta Indigenous Mentorship in Health Innovation (AIM-HI) network and the development and evaluation of a training series.
---
Indigenous allyship
This 3-part study is in it's 3rd phase. First we identified how non-Indigenous people cluster around ideas about Indigenous solidarity. Second we articulated a model of Indigenous allyship from the perspective of Indigenous youth adults. And now we're working on how Indigenous faculty and staff evaluate non-Indigenous applicants, who claim to be allies, for projects that involve Indigenous content and communities.
---
Mental health programming for Indigenous clients
This project has two smaller studies within it. The first is a content analysis of the literature that describes programs for Indigenous participants (almost complete), and the second is an interview study with counsellors who counsel Indigenous clients about if and how they integrate Indigenous culture into trauma-informed therapy.
---
Readiness to practice Indigenous health research
This project is a 4 part study. We first defined what readiness to practice is in general healthcare (article submitted for review), then we defined what readiness to practice looks like with Indigenous populations (almost complete). The 3rd part will 
Awards
Students' Union Teaching Excellence Award,

University of Calgary's Student Union.

Killam Undergraduate Mentorship Award,

University of Calgary.

2021
Publications
The Five-Factor Model of Indigenous Studies: A Quantitative Content Analysis of Postsecondary Indigenous Studies Websites in Canada, the United States, Australia, and New Zealand.

Adam T. Murry, Tyara Marchand, Emily Wang, Daniel Voth. Journal of American Indian Studies. 50-84. (2021)

Indigenous Mentorship in the Health Sciences: Actions and Approaches of Mentors.

Adam Thomas Murry, Cheryl Barnabe, Sharon Foster, Aisha S. Taylor, Elaine J. Atay, Rita Henderson & Lindsay Crowshoe. Teaching and Learning in Medicine. 266-276. (2021)

Reconciliation and Industrial–Organizational Psychology in Canada.

Adam T. Murry, Keith James. Canadian Journal of Behavioural Science / Revue canadienne des sciences du comportement. 114-124. (2021)