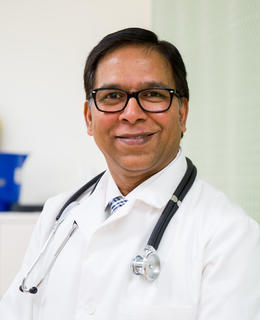 Dr. Abhay Lodha, MSc, MBBS, MD, DM, FRCP (Edin.), FRCPI, FNNF, FRCPCH (UK), FRCPC (Ped, NPM), FAAP
Positions
Professor
Cumming School of Medicine
Staff Neonatologist and Perinatal Epidemiologist
Cumming School of Medicine
Child Health & Wellness Researcher
Alberta Children's Hospital Research Institute
Background
Credentials
FRCPC (Pediatrics), The Royal College of Physicians & Surgeons of Canada, 2021
FRCPC (Neonatal-Perinatal Medicine), The Royal College of Physicians & Surgeons of Canada, 2021
Educational Background
M.S. Epidemiology & Biostatistics, University of Toronto, 2005
Biography
Abhay Lodha, MSc, MBBS, MD, DM, FRCPC, is a Professor of Pediatrics and Community Health Sciences in the Cumming School of Medicine at the University of Calgary, Canada..
His goal is to improve the outcomes of vulnerable NICU babies. His research has encompassed various aspects of perinatal epidemiology, neonatology, prematurity, neurodevelopmental outcomes and patient-oriented health outcome research. He has participated in multi-site clinical trials serving as the Principal Investigator at the Foothills Medical Centre, evaluating growth and long-term neurodevelopmental outcomes in extremely preterm infants. He served on an editorial board as an Associate Editor of the Canadian Pediatric Society official Journal "Paediatric & Child Health" and the "BMC Pediatric" Journal.
Dr. Lodha attended medical school and completed a Pediatric Residency at RNT Medical College, Udaipur, University of Rajasthan, India. He completed his Neonatology residency at LTM Medical College, University of Mumbai, India. He was the first student who earned a DM degree in Neonatology from the University of Mumbai, India. He then went on for advanced training in neonatology to Australia at the Mercy Hospital for Women, University of Melbourne. Dr. Lodha moved to Canada in 2000, was able to complete a three-year fellowship in Neonatal-perinatal Medicine at the Hospital for Sick Children in Toronto and completed a Master's in Clinical Epidemiology & Biostatistics from the University of Toronto. He is a fellow of the Royal College of Physicians & Surgeons of Canada in Pediatrics and Neonatal-Perinatal Medicine, Royal College of Physicians of Edinburgh, Royal College of Physicians of Ireland, Royal College of Paediatric & Child Health (UK), Fellow of National Neonatology Forum India and The Royal Society of Medicine, London.
Research
Areas of Research
Epidemiology
Health Outcomes
Neonatology
Neurodevelopment
Activities
We are currently following long term neurodevelopmental outcomes at 3 and 5 years of age, for extremely premature infants with Bronchopulmonary Dysplasia.
Participation in university strategic initiatives
Projects
Neurodevelopmental outcomes of BPD Children, Health outcomes of Premature infants
Awards
award,

2017

Premie Award,

2009

award,

1999

First Prize for Cover Design for "Academy Today",

Indian Academy of Pediatrics.

1996

award,

1984