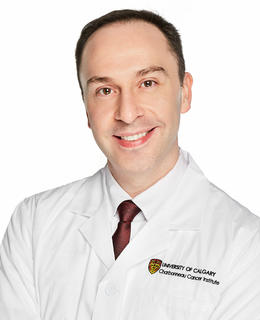 Positions
Associate Professor
Cumming School of Medicine, Department of Biochemistry and Molecular Biology
Associate Professor
Cumming School of Medicine, Department of Oncology
Director
Robson DNA Science Centre
Scientific Director
Evict Radon National Study
Lead of Science Communication and Public Outreach
Arnie Charbonneau Cancer Institute
Director of the Charbonneau Microscopy Facility
Arnie Charbonneau Cancer Institute
Member
Arnie Charbonneau Cancer Institute
Background
Educational Background
B.S. Biochemistry, University of Calgary, 1999
Doctor of Philosophy Biochemistry, University of Calgary, 2005
Post-Doctorate in Radiation Biology, University of Sussex, 2010
Biography
Dr. Goodarzi is the Director of the Robson DNA Science Centre, and is the Lead of Science Communication for the University of Calgary's Charbonneau Cancer Institute. He obtained his PhD from University of Calgary in 2005 and trained as a post-doctoral scholar at the Genome Damage and Stability Centre at the University of Sussex (UK) until 2010. In 2011, he opened his own laboratory at the University of Calgary's Cumming School of Medicine. Between 2012-2022, he held the Canada Research Chair for Radiation Exposure Disease. In 2015, he was named one of Calgary's Top 40 Under 40 for achievements in science and education. In 2016 he was made a "Peak Scholar" by University of Calgary President Elizabeth Cannon for his work in knowledge engagement and innovation in the community with regards to radon gas induced cancer. In 2018, he was selected as a TEDx speaker on how citizen based science can transform research. Dr. Goodarzi is also the founder and Scientific Director of The Evict Radon National Study, a transdisciplinary, national research project aimed at enabling research into understanding and engineering out lung cancer-causing radon gas exposure from the Canadian residential environment.
Research
Areas of Research
From DNA and Cells to Populations and Cities: transdisciplinary approaches to understand and prevent exposure to cancer-causing ionizing radiation
Summary of Research
From the moment of our conception, our DNA is subject to damage, the most serious being a break in both strands of the DNA. Unless these breaks are resealed correctly, whole segments of our genome can be lost or permanently mutated to fuel a self-propagating process of volatility that underlies cancer formation, radiation poisoning and/or premature cellular aging. My laboratory operates in a transdisciplinary manner, with ongoing projects in fundamental biology, population health, behavioural science, building science, policy, and atomic physical approaches to novel diagnostics and lab technology development.
Our wet lab science focuses on the study of ionizing radiation in the context of: (1) DNA damage repair in complex chromatin, (2) cellular oxidative stress responses and the role played by chromatin remodelling enzymes, (3) the developing brain of a child undergoing anti-cancer radiation therapy, and (4) the impact of repetitive, low-dose exposure to high linear energy transfer alpha particles emitted by radon gas, which is the leading cause of lung cancer in people who have never smoked. We also collaborate with other teams to use structural and integrative biology approaches to discern how chromatin remodelling enzymes function.
Our dry lab science involves wide-scale radon gas exposure testing and population health analyses that are aimed at understanding how the radiation emitted by radon impacts our bodies, and who may be the most at risk of developing lung cancer following long term radon gas exposure. We are advancing this by studying radon exposure as a function of the urban and rural built environment, how it can be (and is) modified by human behaviour and genetics, as well as the relationship between radon exposure, lung cancer risk and identity (gender, occupation, age, rural versus urban alignment, parental status, and more).
Discoveries in these areas are improving our knowledge of cancer formation, human ageing and radiation protection, and are aimed at reducing the future burden of lung cancer in Canada by developing meaningful, community-based interventions today. To test your home for radon whilst also contributing data to research, please visit www.evictradon.org for more information.
Participation in university strategic initiatives
Courses
| Course number | Course title | Semester |
| --- | --- | --- |
| MDGE 625 | Chromatin Dynamics and Epigenetics | Winter Semesters, even number years |
| MDGE 721 | Biochemistry and Molecular Biology | Spring Semesters, annually |
| MDSC/CMMB 561 | Cancer Biology | Winter Semesters, annually |
| ARCH 508 | Building Science I | Winter Semesters |
| MDGE 635 | Environmental Sources of Cancer | Winter Semesters, odd number years |
Projects
(2023-2028) Canadian Cancer Society Breakthrough grant - The early detection of non-tobacco lung cancers based on radon exposure
In this project, our team will bring together atomic physics, population health and radiobiology to address the unmet need to accurately determine lifetime, individualized exposure to lung cancer-causing radon gas in a manner useful as an index test to stratify people for lung cancer screening on the basis of non-tobacco sources of lung cancer, including radioactive radon, arsenic, air pollutants, and risk modifiers such as diet, genetics, and inflammatory lung diseases. We aim to disrupt the status quo of radon testing and lung cancer screening using our recently validated mass spectrometry-based technology that is able to quantify 'telltale' solid radioisotopic radon decay products in keratinizing human tissue with sufficient sensitivity to measure lifetime radon exposure. 
---
(2013-2028) NSERC Discovery Grant - Exploring repair pathway interplay during the response to clustered, multiply-damaged DNA lesions using yeast and human cell genetic model systems
This project uses molecular biology to understand the relationships between DNA repair processes whose convergence, cooperation and/or conflicts ultimately 'decide' the fate of eukaryotic cells exposed to ionizing radiation types that produce clustered and multiply-damaged genomic lesions. Whilst the repair of DNA lesions occurring in isolation (within the genome) is increasingly well understood, the molecular events that occur when >1 different DNA damage types arise in a cluster (i.e., >1 lesion within a single helical turn) are less clear. Clustered DNA damage is produced by high linear energy transfer (LET) IR types include ion emissions from terrestrial radioisotopes or cosmic radiation. Clustered, multiply-damaged DNA lesions lead to a greater degree of genomic instability and/or cell death versus exposure to lower LET IR sources such as gamma- or x-ray photons. The important molecular questions are why is this the case, and what processes are at work that make DNA repair mechanisms (and outcomes) so different in situations where DNA lesions arise in greater or lesser proximity to one another.
---
(2020-2026) CIHR Project Grant - High-Throughput Analysis of Low Dose, Repetitive Alpha Particle Irradiation as a source of radon-induced Lung Cancer
In this project, we will determine how, at a molecular level, repetitive exposure of lung cells to low doses of alpha particles elicits cancer-driving genomic instability. We have developed a novel, high-throughput method to deliver alpha particles conveniently and with precision in a standard laboratory, representing a major advance over previous methodologies. We will advance biomedical knowledge by determining DNA damage response dynamics after repetitive, low dose particle exposure in relation to high dose and/or photon irradiation, and in cells with perturbation(s) modulating DNA damage induction, repair and/or signalling defects. We will advance future health outcomes by identifying particle-induced lung cell genome instability and mutation signatures, building the foundation of knowledge required to attribute radon to specific case of lung cancer with molecular precision.
---
(2022-2024) - CIHR Project Grant - Increasing radon gas-induced lung cancer risk during the COVID-19 pandemic response: implications for Canadians experiencing long term disability
The goal of this project is to understand and address rising Canadian radon gas-induced lung cancer risk due to COVID-19 pandemic-linked lung injury, disability, and behaviour change. Our aims align with all main objectives of this funding opportunity as we will: (i) measure the consequences of COVID-19 on the health and resilience of Canadians in the context of increases in lung cancer risk and rising radon exposure; (ii) identify effective policy and practice interventions to counteract increased lung cancer risk due to behaviour changes and lung injury caused by COVID-19; and (iii) generate evidence relating to (marginalized) Canadians with disabilities. Our research areas focus on the effect of the COVID-19 pandemic on public health (lung cancer) issues through changes in health behaviour, workplace safety, as well as the exacerbation of disparities amongst the disabled.
---
(2022-2024) - CIHR Healthy Cities Program Grant - Towards Data Symmetry for a Balanced Understanding of Canadian residential housing radon gas exposure
The goal of this project is to integrate recent residential radon gas exposure data with administrative housing, health and population information, to establish the data symmetry essential for analyses needed to inform physical, social and policy interventions required to reduce lung cancer risk attributable to radon inhalation within the Canadian urban built environment. Our aims align with the main objectives of this funding opportunity as we will: (i) contributing analyses to directly inform the planning of physical, social and policy interventions on improving urban population lung health; (ii) filling critical knowledge gaps needed to implement population-level interventions aimed at reducing residential radon exposure in the urban environment; and (iii) validating and enhancing radon exposure indicators to enable comparable, replicable and equitable healthy cities intervention research for lung cancer prevention. We will advance health outcomes by developing actionable, well-informed knowledge of radon exposure and lung cancer risk, and use this to address one of the most prevalent built environment-based health threats to our future cities.
---
(2021-2024) Alberta Real Estate Foundation - Towards an Albertan Future Free of Radon in the Residential Built Environment
To meet the projected population needs of 2050, we must build 70% more housing over the next 30 years. The urgent need of this work is, that if this future 70% housing is built with yet even higher radon (as our projections indicate will happen without intervention), this built-environment-driven public health crisis will worsen. The price of this in lives and healthcare costs will be staggering, but they are avoidable. The goals of this project are to (i) reduce the burden of radon-induced lung cancer stemming from exposure within the Albertan residential property environment, (ii) ensuring that this health issue is addressed while not interfering with residential real estate transactions, and (iii) improving the equity and inclusivity of public health investments in radon reduction for younger Albertans, rural Albertans, and Albertans aligned in the real estate, architectural and resource sectors.
Awards
Biochemistry and Molecular Biology Education Award,

Cumming School of Medicine - Department of Biochemistry and Molecular Biology.

2019

TEDx YYC Talk Invitation - "Radon in our Homes: The Science Behind the Danger",

2018

Distinguished Alumni Award,

Rundle College Society.

2017

Peak Scholar Award - "Excellence in Entrepreneurship, Innovation and Knowledge Engagement",

University of Calgary.

2016

Top 40, Under 40 Winner,

Calgary's Avenue Magazine.

2015

Leon Browder Rising Star Award,

Cumming School of Medicine.

2014
Charbonneau Cancer Institute and Robson DNA Science Centre Team: 
Allie Miller, MSc, Communications Manager, Charbonneau Cancer Institute
Anne Vaahtokari, PhD, Microscopy Manager, Charbonneau Cancer Institute
Evelyn Boland, Business Operations Manager Robson DNA Science Centre
Nicholas Ting, PhD, Science Operations Manager, Robson DNA Science Centre
Evict Radon National Study Team: 
Dustin Pearson, PhD, Research Operations Manager
Evelyn Boland, Business Operations Manager
Shilpa Salgia, MSc, Financial Operations Manager
Allie Miller, MSc, Communications Strategist
Joshua Rice, BA, Communications Assistant
Current Laboratory Personnel: 
Peter Brownlee, PhD, Postdoctoral Scholar
Wilson Nartey, PhD, Postdoctoral Scholar (joint with Dr. Gareth Williams)
Monica Caicedo-Roa, PhD, Postdoctoral Scholar (joint with Dr. Cheryl Peters)
Isaiah MacDonald, BSc, MD, Clinical Fellow (joint with Dr. Doreen Ezeife)
John Danforth, MSc, Doctoral Student
Luc Provencher, BSc, Doctoral Student
Austin Atkins, BSc, Masters Student 
Patrick Straw, BComm, Entrepreneur-in-Residence, MBA project student
Marvit Ahanonu, design student (2023-onwards, joint with Prof. Joshua Taron)
Research Team At Large: 
Owen Wells, BSc, PhD, Scientific Writer at large
Justin Simms, MSc, MD, Clinical Researcher at large
Chaten Jessel, BSc, Clinical Researcher at large
Sophie Pett, BHSc, Researcher at large
Support Staff: 
Jumi Lee, Administrative Assistant