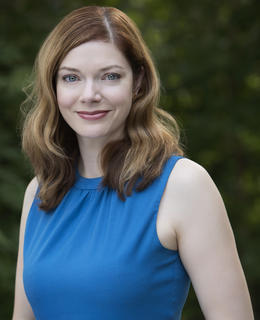 Kristen van de Biezenbos
Positions
Associate Professor
Faculty of Law
Academic Director
Centre for Corporate Sustainability
Background
Educational Background
JD Tulane University School of Law, 2010
MFA University of New Orleans, 2007
BA University of Tennesee, 2000
Biography
Before joining the Faculty in 2017, Kristen taught energy law and related courses at the University of Oklahoma College of Law and Texas Tech University School of Law. She received her J.D. from Tulane University Law School in 2010 and interned for the honorable Judge Lance Africk at the U.S. District Court for the Eastern District of Louisiana. She subsequently had a mixed transactional and litigation practice in New Orleans, focused on offshore energy services, maritime law, and international arbitration. From 2013 to 2015, she was a Westerfield Fellow at Loyola University New Orleans College of Law. She also holds a B.A. from the University of Tennessee and an M.F.A. from the University of New Orleans.
Kristen is a member of the Board of Advisory Editors for the Tulane Law Review and the Loyola Maritime Law Journal, and is a former trustee of the Rocky Mountain Mineral Law Foundation. She currently serves as chair of the Admiralty & Maritime Law section of the American Association of Law Schools.
Kristen is a member of the Bar of Louisiana.
Research Activities
Kristen's research explores energy law and its local impacts, especially the problems of externalized costs and regulatory gaps. She also writes about energy in context with water law and land use issues, global energy initiatives, international energy transactions, and comparative energy policy. Currently, she is looking into the efficacy of methane regulations, the community-level impacts of geoengineering projects, and the environmental impacts of corporate law.
Research
Areas of Research
Energy Regulation, Transition, and Land Use Issues, Environmental and Natural Resources Law and Policy, Renewable Energy Markets and Regulation, Sustainability, ESG, Private Environmental Governance
Courses
| Course number | Course title | Semester |
| --- | --- | --- |
| LAW 653 | Directed Research | |
| ENMG 301 | Electricity Regulation | |
| LAW 637 | Energy Law | |
Publications
"The Rebirth of Social License".

Kristen van de Biezenbos. 14 McGill Journal of Sustainable Development Law. (2019)

"Negotiating Energy Democracy".

Kristen van de Biezenbos. 33 Florida State Journal of Land Use & Environmental Law. (2018)

"Sunken Treasure: Preserving Underwater Cultural Heritage".

Kristen van de Biezenbos. 49 Journal of Maritime Law & Commerce. (2018)

"Enforcing Private Environmental Governance Through Community Contracts".

Kristen van de Biezenbos. 9 George Washington Journal of Energy & Environment Law. (2018)

"Contracted Fracking".

Kristen van de Biezenbos. 92 Tulane Law Review. (2018)

"Where Oil is King".

Kristen van de Biezenbos. 85 Fordham Law Review. (2017)

"A Sea Change in Creditor Priorities".

Kristen van de Biezenbos. 48 Michigan Journal of Law Reform. (2015)
"The Limits of Social License on Indigenous Land in Canada".

Kristen van de Biezenbos. in The Palgrave Handbook on Social License to Operate. (2021)

"Energy, Technology & The Environment".

Kristen van de Biezenbos and Allan Ingelson. in Environmental Law & Policy, 4th ed. (Sara Bagg, Alastair Lucas, et al., eds.). (2020)

"Regulation of Low Carbon Energy Sources in North America".

Kristen van de Biezenbos. in World Handbook on Energy Law (Tina Hunter, ed.). (2020)

"Recourse Under Rule B: The Peculiar Problem of Maritime Attachments Under U.S. Law".

Kristen van de Biezenbos. in Charterparties: Indemnities, Recourse, and Collaterals (Filippo Lorenzon, Ed.). (2014)
Moderator: "COVID-19's Impact on Workforce: What to Think About Now".

Haskayne Hour, Univeristy of Calgary Virual Speaker Series. (2020)

"Lost in Transmission: Canada's Energy Infrastructure Poverty".

Sabin Colloquium on Innovative Climate Change Scholarship. (2020)

"Global Decarbonization and Local Impacts".

University of Calgary Environmental Law Society Roundtable. (2020)

"Indigenous Rights & Energy Infrastructure".

University of Calgary School of Public Policy ReDevelop Conference. (2019)

Moderator: "Conversation with Maria van den Hoeven on International LNG Markets".

Petronas Speakers Series. (2019)

"Tilting at Windmills: Energy Infrastructure in North America".

Public Lands Law Conference. (2019)

"Lost in Transmission: Canada's Lack of National Electric Grid".

Purdy Crawford Business Law Conference. (2019)

"Sustainability, Inc.".

University of Calgary Junior Scholars Workshop. (2019)

"Unpacking the Keystone KL Mess: Cross-Border Pipeline Permitting".

Canadian Bar Association Section on Natural Resources. (2019)

"Energy Transport & Transformation: Revolution & Counterrevolution".

Rocky Mountain Mineral Law Foundation Natural Resources Law Teachers Conference. (2019)

"Social Licence: Community Buy-In and Energy Projects".

University of Calgary School of Public Policy Responsible Development of Low-Permeability Hydrocarbon Resources Conference. (2019)

"Energy Justice and the Transition from Diesel Generation in Canada's North".

5th Annual Sustainability Conference of American Legal Educators. (2019)

"Infrastructure Buildout and Community Relations in British Columbia's Natural Gas Fields".

3rd Annual North American Energy Conference. (2019)

"Communities & Conflict in British Columbia's Natural Gas Boom".

10th Annual Energy Law Conference. (2019)